Creating Artwork, Helping Animals
Veterinarians International is a New York based non-profit that provides veterinary services for animals who need it most. Led by founder Dr. Scarlett Magda, VI has become a network of veterinarians, community leaders and animal advocates across the world. We are partnering with them to create artwork based on references gathered by observing the animals they treat. The goal of our partnership is to create sculptures that will make a direct difference for animals and will help VI to continue their programs.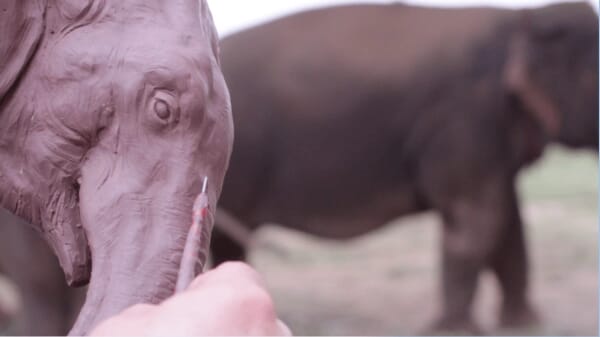 Each Sculpture Is An In-Depth Study
Kicking off our partnership, we traveled to Thailand from April 3-15, 2019 to observe VI's work with Asian elephants, an endangered species that faces welfare challenges. Each sculpture is an in-depth study of the animal, so the doctors allowed us to gather proportions from life using measuring tape and calipers. Experiencing the personality and movements of an animal is just as important as knowing the anatomy, so nothing is better than working from life. We wanted to learn the animals' stories so that we can reflect them in the artwork.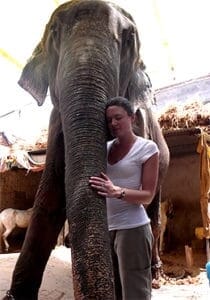 Dr. Scarlett Magda
An overview of the Asian elephant situation in Thailand:
The elephant keeping tradition in Asia goes back thousands of years and has evolved over time. Decades ago, mahouts (elephant keepers) and elephants made their money in the logging industry, using the animals to remove timber in difficult areas. On one hand, the industry provided exercise and feed for the elephants, but on the other, it was a dangerous job that over time destroyed most of the elephants' natural habitat. After the vast majority of logging was banned in 1989, the mahouts and their elephants were out of work, the forests were mostly destroyed, and as a last resort they took to the busy cities to beg for food. As the mahouts fell onto hard times, they became less able to meet the enormous needs of their elephants, which culminated into a welfare crisis.
Surin
Trying to find a way to keep elephants from starving, Thailand's queen designated approximately 1,000 acres in the province of Surin to be a community for mahouts to live and care for their animals. This community is known as the Elephant Kingdom and is home to over 200 elephants. The queen hoped to provide incentives for the mahouts and elephants to stay out of the big cities; however, the move created a set of new issues in Surin. Many of the mahouts now keep their elephants on short chains at home to prevent the animals from wandering away. For a mahout, an elephant is their greatest pride and asset, so the chains are to prevent escape. Since they are now restrained most of the time, the elephants aren't getting the exercise and socialization they desperately need.
Veterinarians International is working to reverse this trend by creating interdisciplinary partnerships. Their Asian Elephant Health and Welfare Program includes alliances with the Golden Triangle Asian Elephant Foundation, the Zoological Parks Organization (who has been designated by the Royal Household to care for elephants), Think Elephants International and the Smithsonian Institute. With full-time veterinarians in Surin (Dr. Pang and Dr. Gwa), the doctors are working with the community of mahouts to provide on-site veterinary treatment, as well as developing long-term strategies to help elephants receive the best possible care.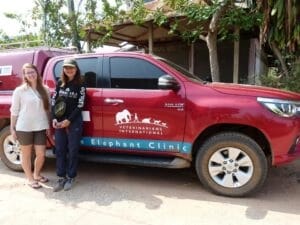 Alison with Dr. Gwa in front of a Mobile Elephant Clinic (MEC), which allows the doctors to respond to both ongoing and urgent needs in the community of Surin.
During our trip to Surin, we were inspired by the way the doctors go about their work. Dr. Pang explained that improving elephant care is based on building trust with the mahouts and maintaining a consistent veterinary presence over time. Because of VI's Mobile Elephant Clinics (trucks containing medicine and supplies) the vets have the ability to check up regularly on each elephant in the community and develop friendships with the keepers. Because mahouts have a resistance to western culture and concepts, it took a full year before they welcomed the doctors in and allowed their animals to be treated. Now Dr. Pang and Dr. Gwa are focused on continuing to provide exceptional care for the elephants and building relationships with the people.
This is where Veterinarians International has succeeded where others have failed: they are in it for the long-haul. They realize it will take a generation to create lasting change in the treatment of elephants, and their commitment is to provide the best veterinary care possible in the short term, and influence mindsets in the long term. In doing so, they have supported working with Thai schools, implementing a classroom curriculum to help kids learn about empathy and welfare, and the importance of giving elephants the space they need to interact and move. By educating kids while they are still young, VI is helping to give the next generation of mahouts the mental tools that are essential for proper elephant care.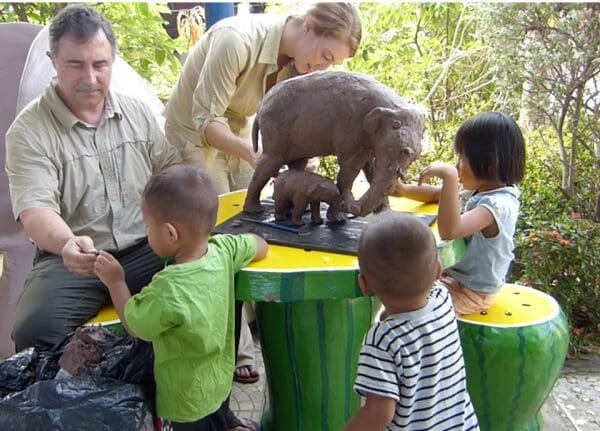 Local kids in Surin gathered around our clay piece and wanted to create art!
Anantara Golden Triangle Elephant Camp
After our trip to Surin, we headed north to Anantara Golden Triangle Elephant Camp, headquarters of the Golden Triangle Asian Elephant Foundation, VI's partner. Located at Anantara Golden Triangle resort, the Elephant Camp is a shining example of elephant care. Since the elephants are able to walk about and socialize, we observed more natural behavior. We were also fortunate enough to spend a lot of time with the elephants to continue our field sketches and work on our sculpture from life.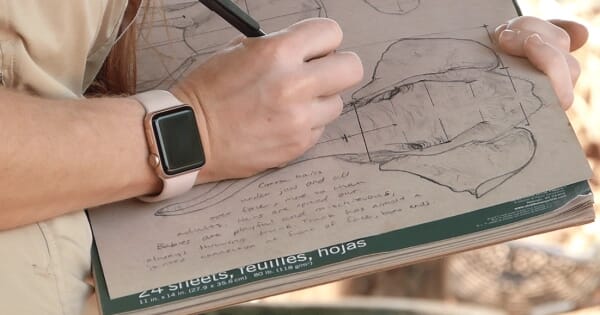 Animals Are Not So Different From Us
Seeing happy elephants at Anantara was the most amazing experience. It was the closest thing to experiencing how they would interact in the wild, and observing their intelligence, curiosity and compassion was profound. We spent most of our time with a pair of female elephants named Pumpui and Dah. Rescued elephants, they shared traumatic experiences with motor vehicles. Now, younger Dah has taken a protective role over her older friend Pumpui and will comfort her gently with her trunk whenever they hear a vehicle's engine.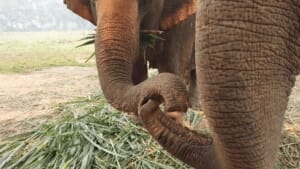 We witnessed so many beautiful exchanges between the animals– they're the same as us. When we were working on our sculpture, the elephants would watch us create, following our movements with their eyes. They seemed to recognize an elephant in the clay, and when they looked at us, we sensed a kindness. .
We were amazed at how naturally art acts as a connection point. Like the kids in Surin who gathered around our sculpture, the elephants had the same childlike wonder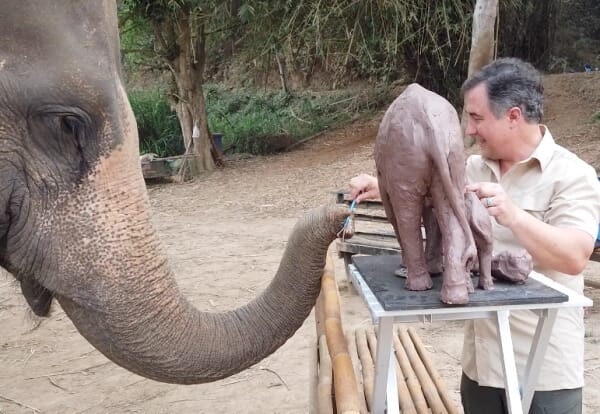 The Golden Triangle Asian Elephant Foundation
We want to express our sincerest thanks to John Roberts, the Group Director of Sustainability & Conservation at Anantara Golden Triangle Elephant Camp & Resort. John was kind enough to host us at Anantara and to allow us to spend time with the elephants who live there. Their foundation (Golden Triangle Asian Elephant Foundation) is a wonderful program that funds the care of the elephants at Anantara. They work in partnership with many other organizations (including Veterinarians International, who funded the development of the conservation curriculum we mentioned) to support elephant welfare initiatives throughout Thailand as well as well as elephant protection across Southeast Asia.
We have taken care to partner only with programs that are transparent, honest and ethical. The Anantara Elephant Camp is one of these, and so is the GTAEF. We are excited to be doing more with them in the future!
Please check out Anantara Golden Triangle Hotel and Resort page here.
Read more about the Golden Triangle Asian Elephant Foundation here
Now that we're back home, we've completed the sculpture in clay. We want the artwork to create a measurable difference for the elephants, so we are donating the first casting of the sculpture in full to Veterinarians International One Health Gala, which will be held August 3, 2019 at Bridgehampton Tennis and Surf Club in New York.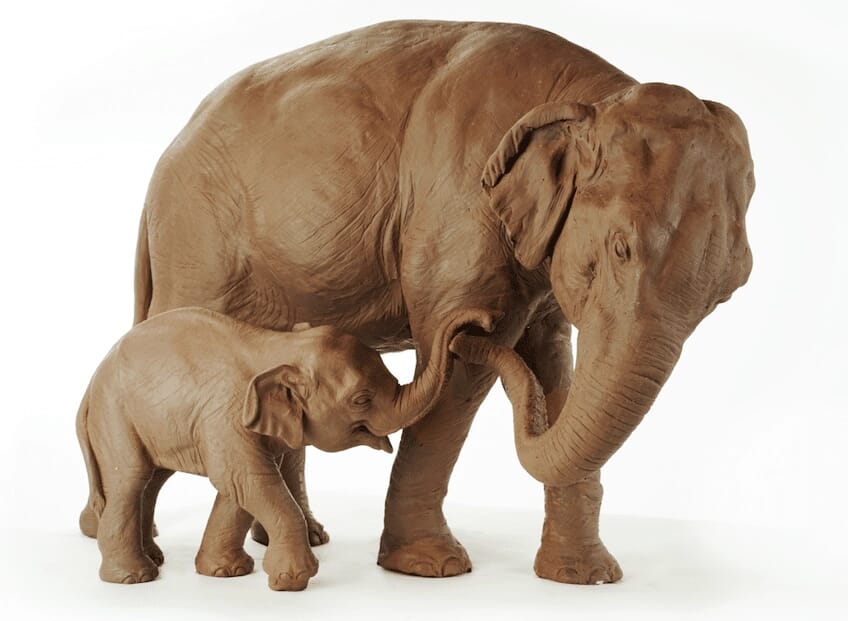 Stay tuned for updates on the sculpture, and for more information about Veterinarians International, the Golden Triangle Asian Elephant Foundation and ways you can help, please follow these links below.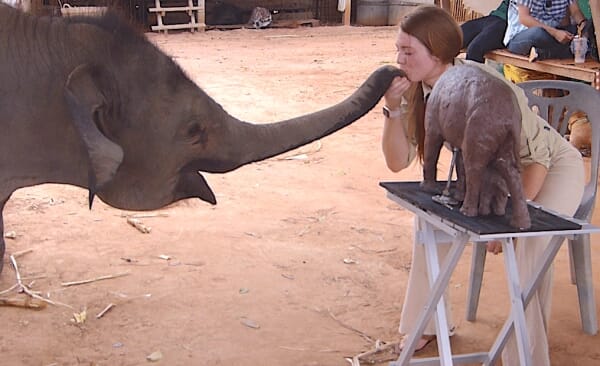 Thanks for reading!
Rip and Alison Caswell