UNIVERSITY OF OREGON DUCK
"This has been a dream for us."​-Tom ClareyDonor to the University of Oregon

LEGACY IN BRONZE
The Clarey family's commitment to the University of Oregon is multi-generational, so in thinking about giving back, they wanted to make a gift that would inspire future generations.Tom Clarey's vision was to create a sculpture of The Oregon Duck, the iconic symbol for the university that links campus and connects past, present and future Ducks together.

A CAMPUS GATHERING PLACE
Now placed in the plaza between the Ford Alumni Center and the Matthew Knight Arena, The Duck greets countless visitors to campus. Athletic events, concerts and commencement ceremonies draw hundreds of thousands of people to the area a year, and The Duck has become a staple for photo opportunities for these many crowds.Located at the gathering place for all campus tours, prospective students frequently take photos with the sculpture and make campus memories that draw them to the university. Within the sculpture, the Clarey legacy serves as a special way to connect with the University of Oregon.To read the University of Oregon Official Alumni News article about the sculpture, click here.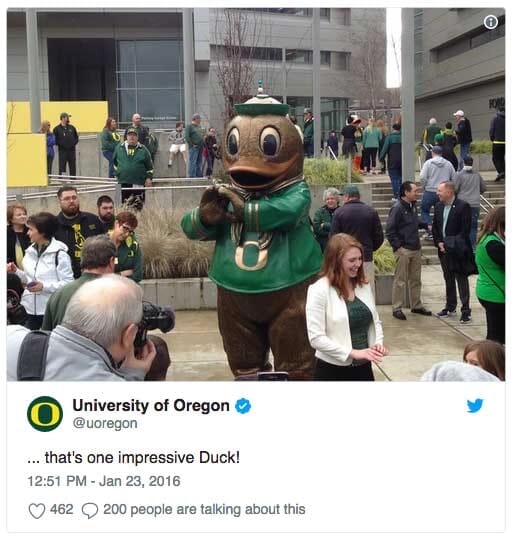 PHIL KNIGHT HALL OF FAME SCULPTURE