"Bronzes have a permanence and character you cannot get any other way."~Neil NedeliskyDeveloper – Eagle Landing Development

"Bronzes have a permanence and character you cannot get any other way."~Neil NedeliskyDeveloper – Eagle Landing Development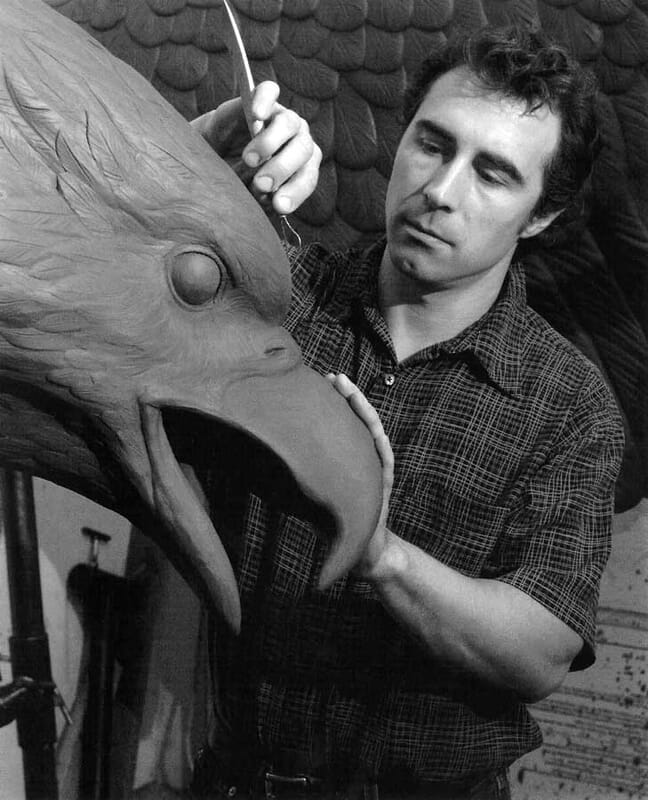 ART TAKES CENTER STAGE IN
DEVELOPMENT
It was not an afterthought that prompted Veritas owner Neil Nedelisky to commission Caswell to produce a 14-foot tall bald eagle in the act of alighting, Guardian Spirit, and to install the sculpture at the entryway of Eagle Landing, the company's golf course community near Portland. Since 1994, Nedelisky has declined to plan a development without art assuming center stage.
ART IN COMMUNITY
Rip was asked by the developer of this large residential and gold course development to create a circular entryway artwork that was representative of the natural beauty within the community.
The monumental piece portrays a bald eagle with talons reaching forward and a wingspan of nearly 14 feet. The Eagle appears to be in motion, about to land on a nearby boulder. The boulder sits within a leafy landscape, in the center of one of the town's major thoroughfares.
Rip worked directly with the developer and the landscape architect, completing the project within budget and on schedule. The piece is intended to suggest two messages: the eagle acts as guardian protector to the area residents, and conveys a message of 'landing', or coming home. Residents of the area and even visitors note that Guardian Spirit is a valuable community landmark.