"Rip Caswell's Baptism of Christ is the artistic center of Epiphany Church in Normal, IL. Everyone who lays eyes on it in our baptistery lights up and is in awe of the composition, the detail, the expressions and the exquisite workmanship. I cannot say enough in praise and appreciation of Rip's ability as an ecclesiastical artist. I respect him for his remarkable work ethic and gentlemanly demeanor. I look forward to working with him again."​ – Monsignor Eric Powell,The Epiphany Catholic Church

"Rip Caswell's Baptism of Christ is the artistic center of Epiphany Church in Normal, IL. Everyone who lays eyes on it in our baptistery lights up and is in awe of the composition, the detail, the expressions and the exquisite workmanship. I cannot say enough in praise and appreciation of Rip's ability as an ecclesiastical artist. I respect him for his remarkable work ethic and gentlemanly demeanor. I look forward to working with him again."​ – Monsignor Eric Powell,The Epiphany Catholic Church

"Rip Caswell's Baptism of Christ is the artistic center of Epiphany Church in Normal, IL. Everyone who lays eyes on it in our baptistery lights up and is in awe of the composition, the detail, the expressions and the exquisite workmanship. I cannot say enough in praise and appreciation of Rip's ability as an ecclesiastical artist. I respect him for his remarkable work ethic and gentlemanly demeanor. I look forward to working with him again."
​
– Monsignor Eric Powell,
The Epiphany Catholic Church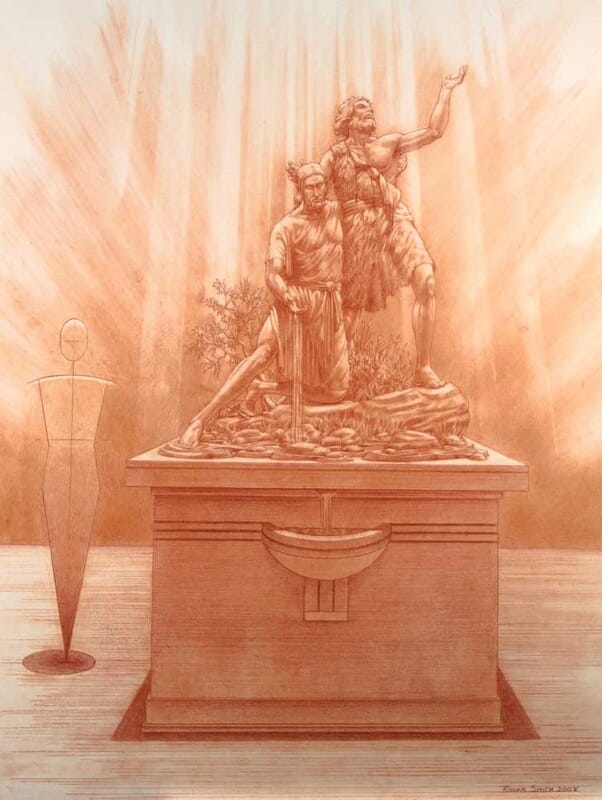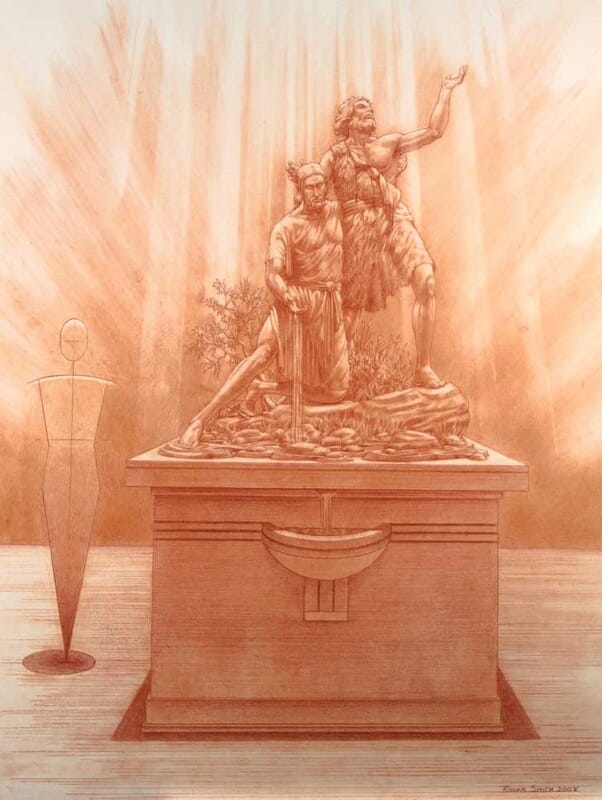 SITE-SPECIFIC DESIGN
Rip was first approached by the Patron of this project to create a site-specific sculpture depicting Christ being baptized by John. The Patron's wish was to have an artwork that could also be used as a baptismal font. The work also had to be realistic and include elements directly related to scripture and to the biblical descriptions of Christ's baptism.The project needed to fit within a very specific timeframe as it was a part of an overall remodel plan for the Epiphany Catholic Church.

AN INSPIRED DIALOGUE
To arrive at a sculpture design, Rip facilitated an inspired dialogue with representatives from the Church. This was a process of listening, asking questions and researching the subjects and theme of the artwork. Rip went to great lengths to understand the wishes of the Church, and inspiration grew from a foundation of familiarity with the project's story to be told.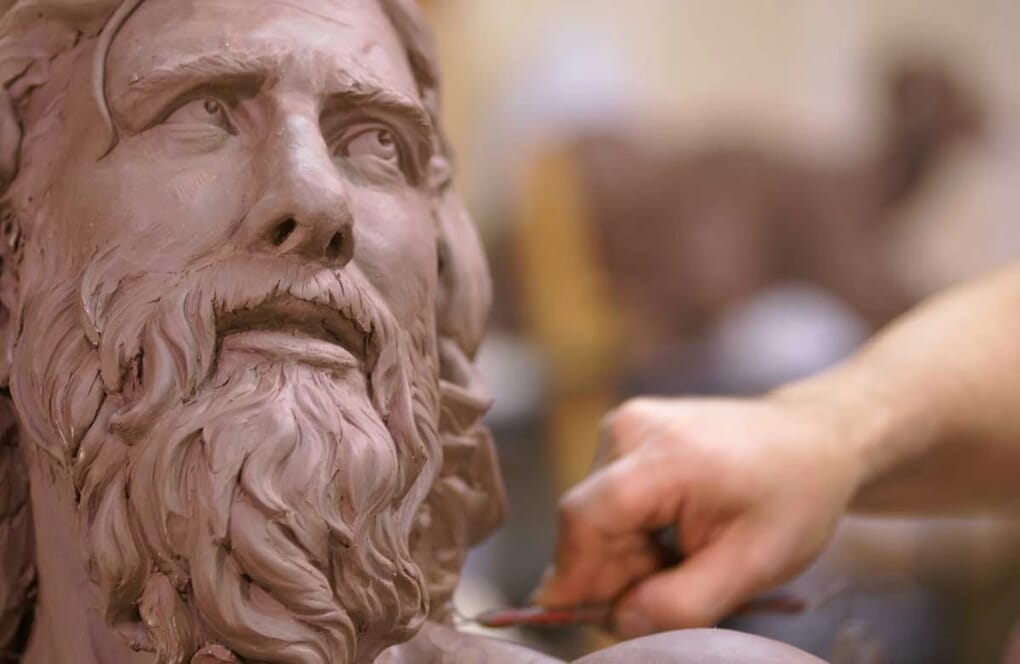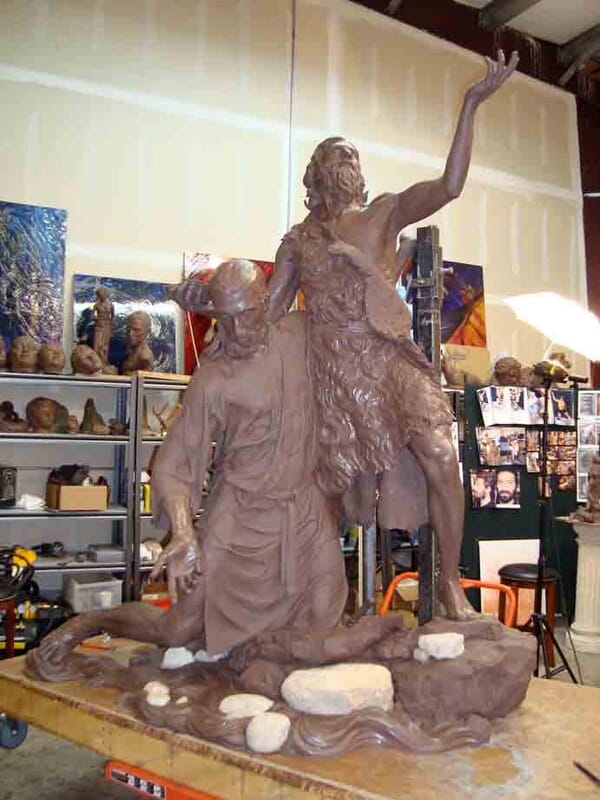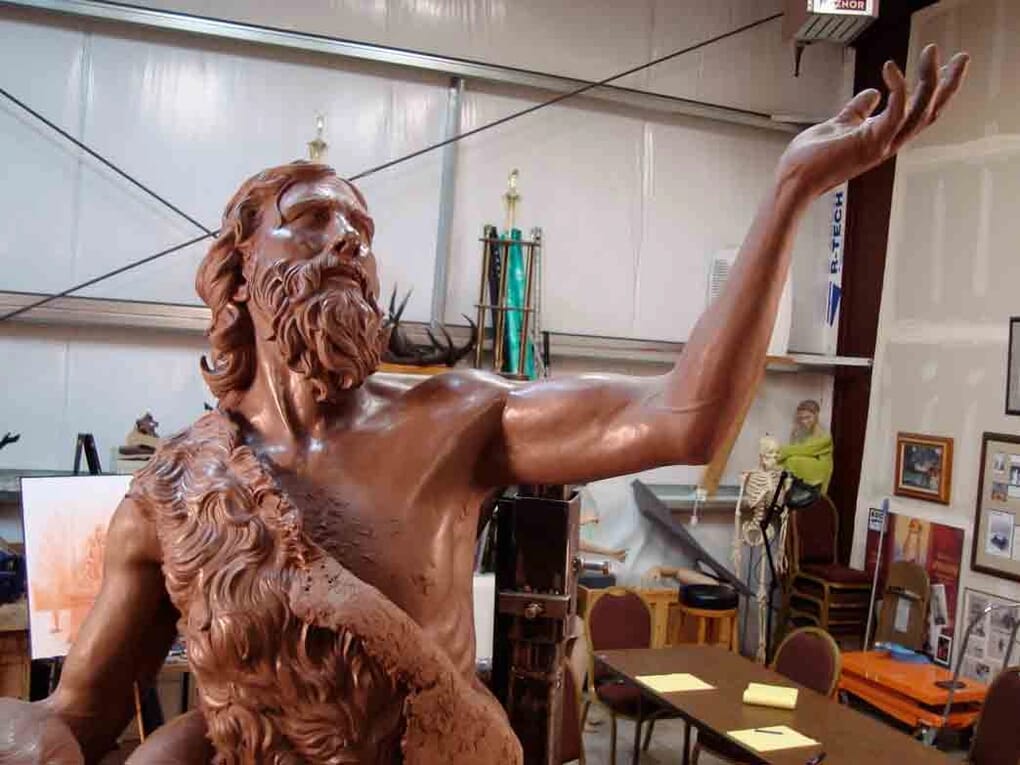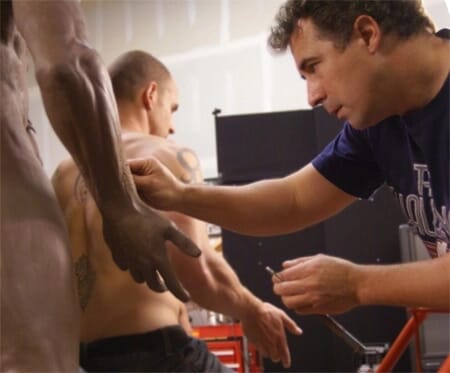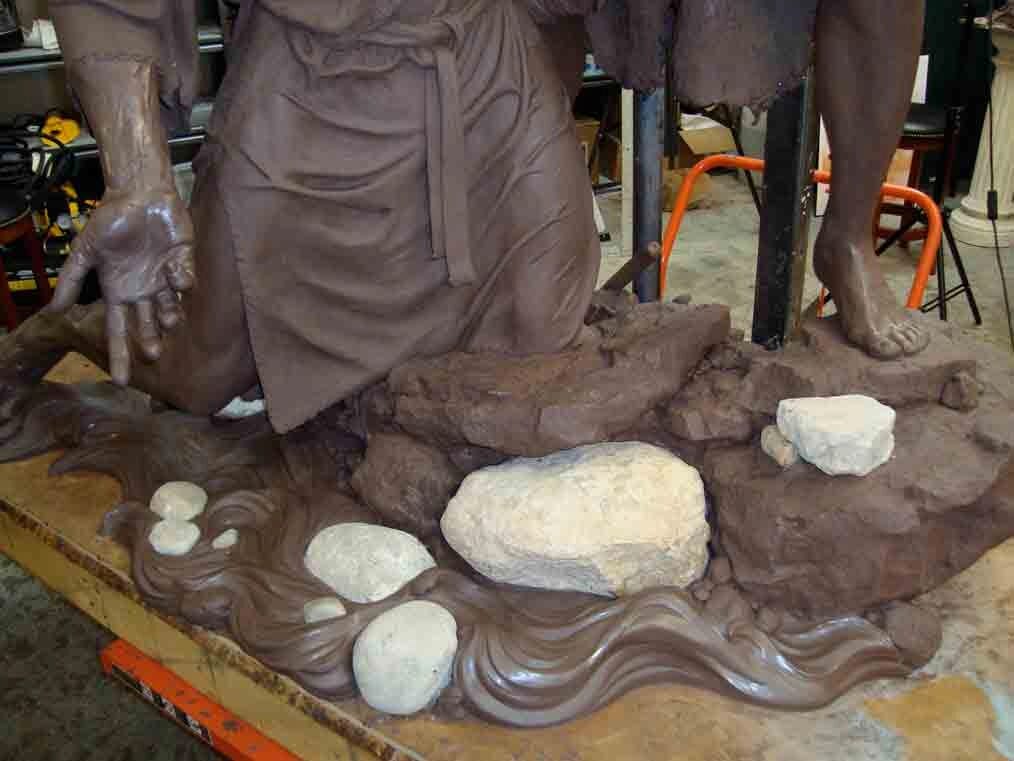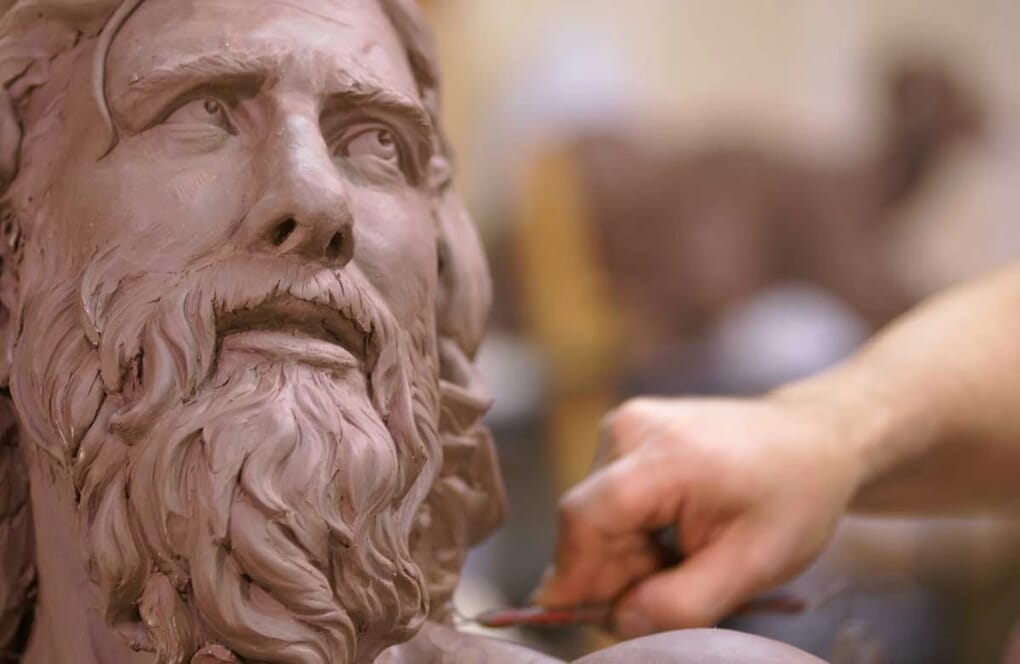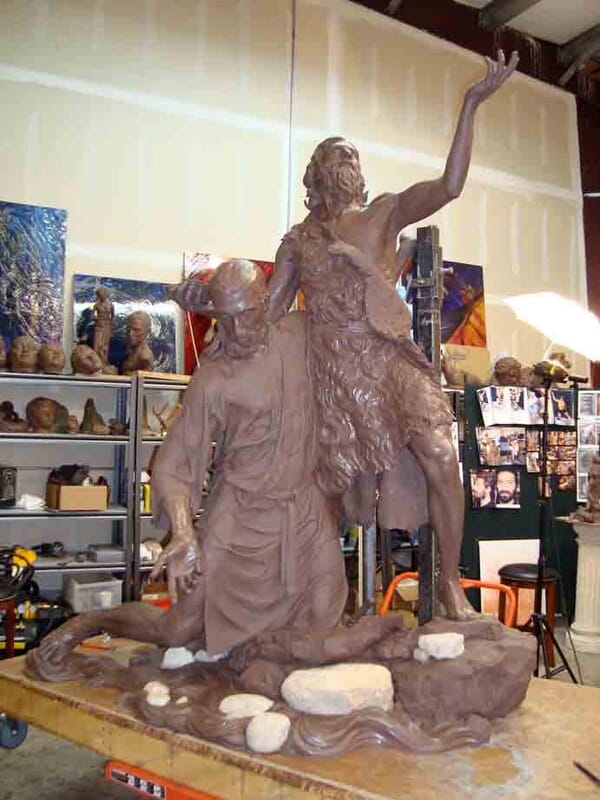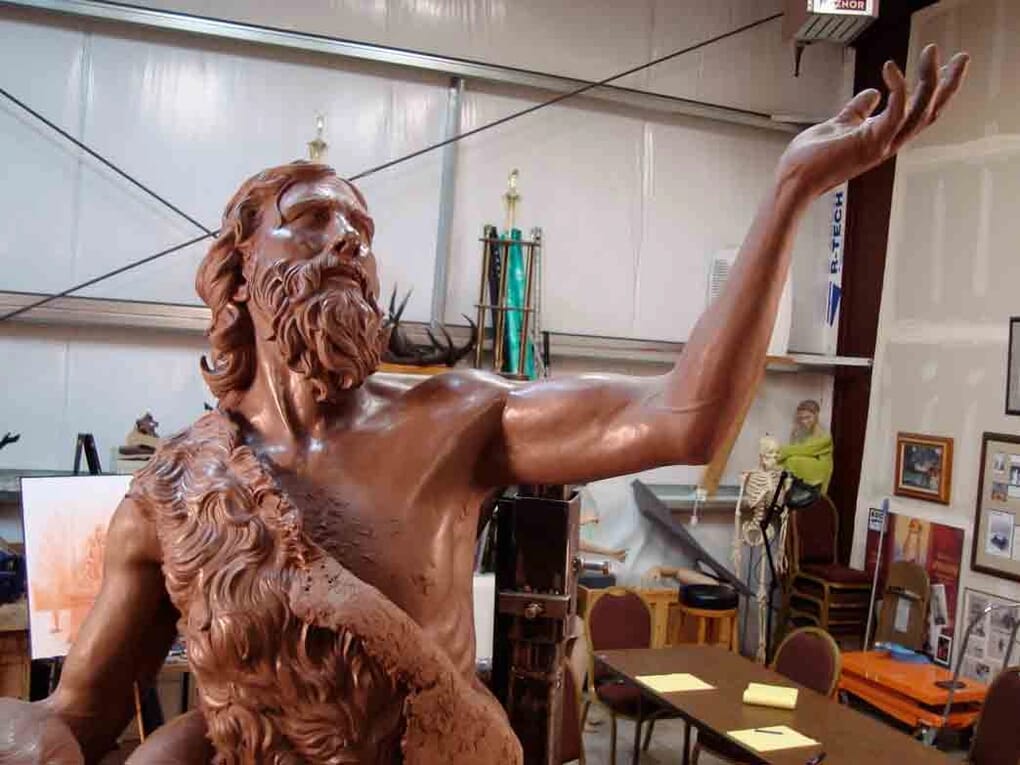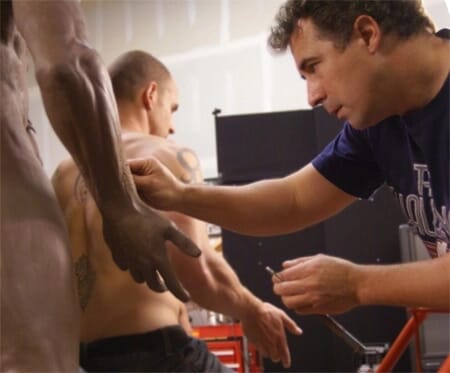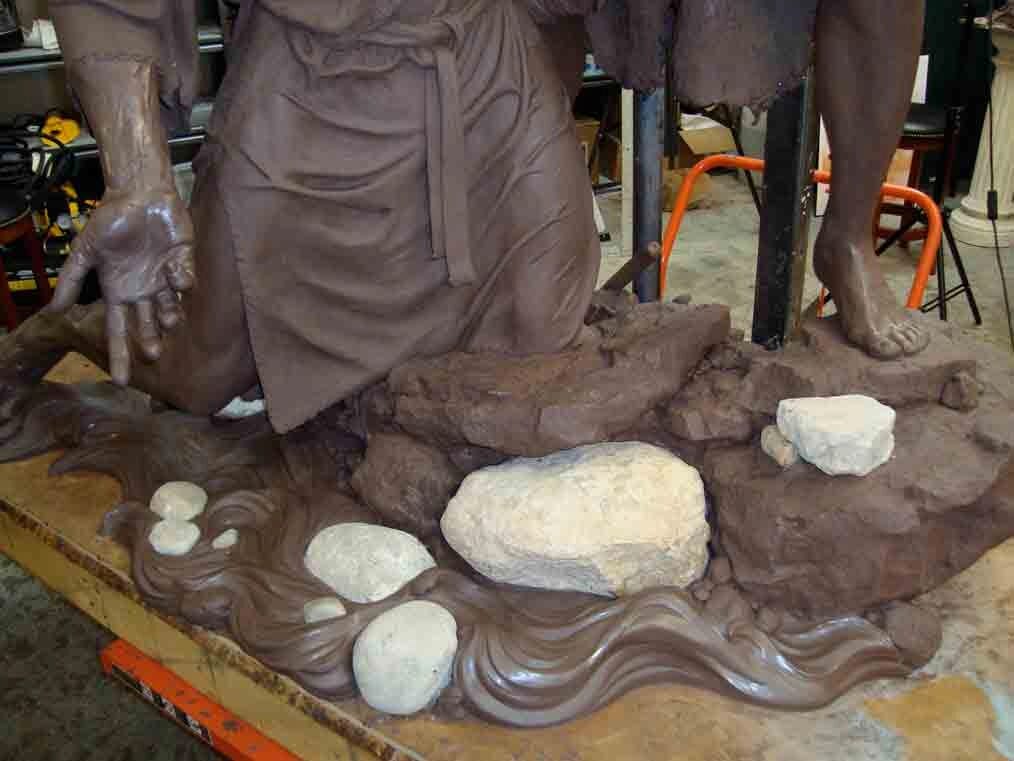 SYMBOLIC DETAILS IN CLAY
Rip approached the project with deep research into the history behind Jesus' baptism. This research enabled him to incorporate details such as an olive branch, cloth and sandals, camel skin and actual rocks from the Jordan River into the final piece.As in all of his figurative work, Rip studied and used a live model for each of the two figures. He sculpted the anatomy of each before adding the layers of clothing.